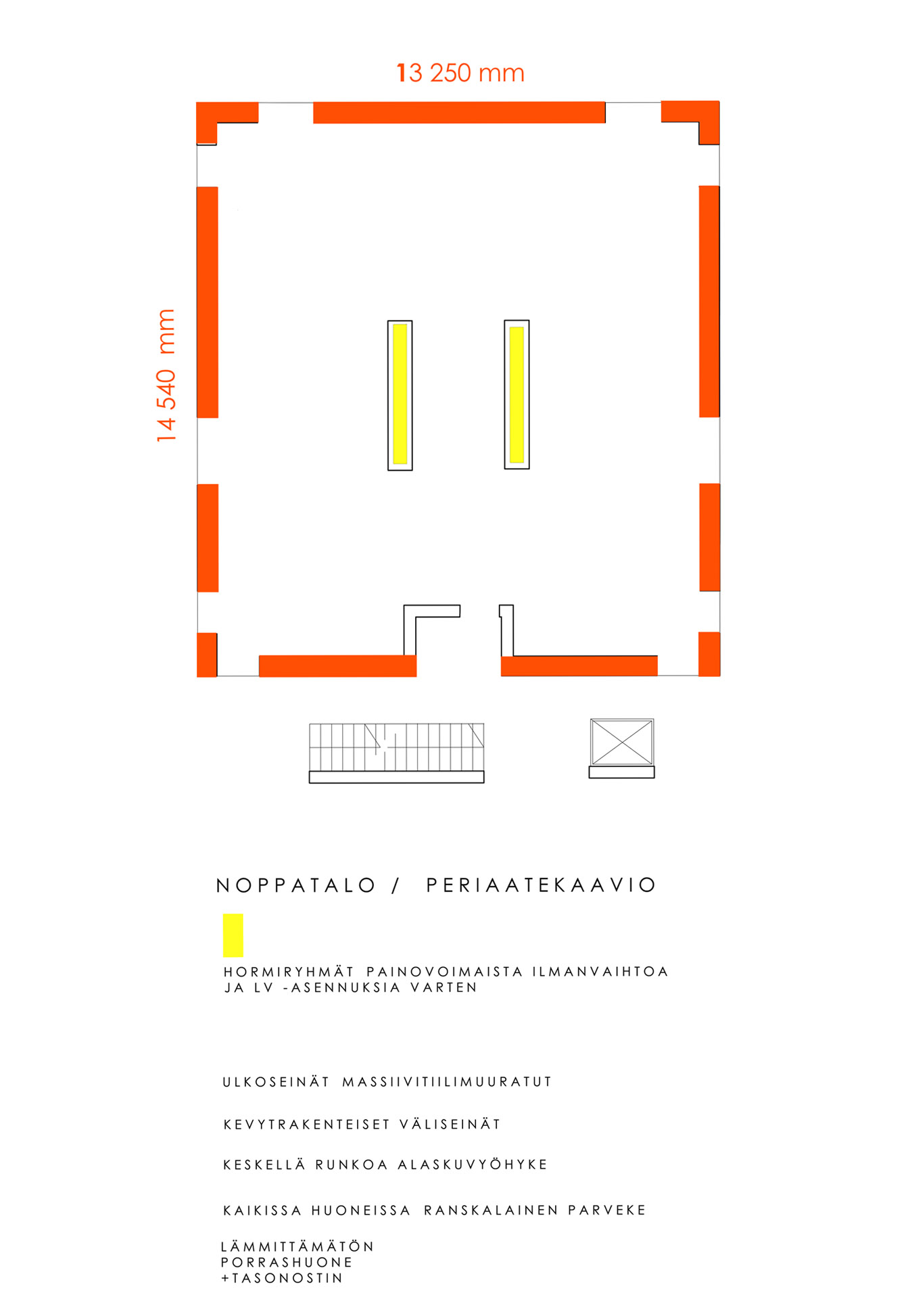 Noppatalot olen suunnitellut yhteisöasumiseen. Kimppakämpät on ajateltu jaettaviksi nuorten ja vanhojen asukkaiden kesken. Suurperheet, joita on esimerkiksi maahanmuuttajien joukossa, saavat koko kerroksen asuttavakseen. Ääntä eristäviä väliovia tarvitaan kotirauhan säilyttämiseksi, samoin useita suihkuhuoneita. Maantasokerroksissa sijaitsevat yhteiset tilat: esutupa, apuväline- ja pyörävarasto sekä kuraeteinen rollaattoreiden, lasten kuravaatteiden ja koirien tassujen pesuun.
I designed the cube-like houses for collective housing. The flat-mate apartments are intended to be shared by young and old residents, while large or extended families occupy an entire floor. Sound-insulating intermediate doors are needed to maintain peace and privacy in the home, and likewise there are several shower rooms. The communal areas are located on the ground floor: laundry, storage for mobility aids and bicycles, and a mudroom for washing rollators, children's outdoor clothes and dogs' paws.
THE EXTENDED FAMILY
A large or extended family will occupy the whole floor. There are 8 beds in the floor plan, but the number can easily be increased with bunk beds, to accommodate the number of children. Further soundproofing between bedrooms and communal spaces, such as the living room and kitchen can be achieved with the installation of intermediate doors.
THE FLATSHARE
A shared apartment e.g., for two old and two young people.
HOUSING FOR DISABLED
Four individual apartments have been designed fully wheelchair accessible.
GROUND-LEVEL
Common areas with a laundry room and mudroom for cleaning mobility aids and washing mud off children's outerwear or dog paws.